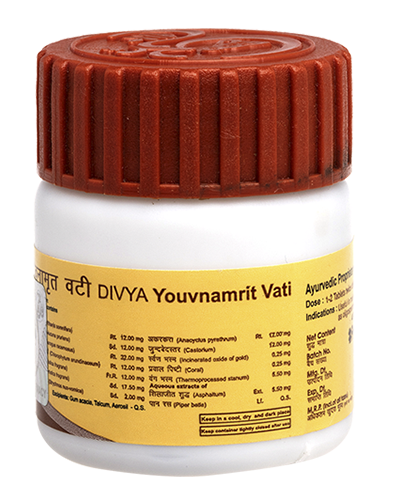 DIVYA YOUVNAMRIT VATI
Divya Yauvanamrit Vati is made for any kind of sexual problems in male. These problems may include premature ejaculation, general debility, and decreased strength.
Benefits:
useful in male infertility all types of semen problems as oligospermia etc.
Ingredients:
Ashwagandha (Withaniasomnifera),Konch Shuddha (Mucuna pruriens),Satavar(Asparagus racemosus),Safed Musli(Chlorophytum arundinaceum),Javitri (Myristica fragrans),Jaiphal (Myristica fragrans),Shuddh kuchla (Strychnos nuxvomica),Akarkara (Anacyclus pyrethrum),Jundbedaster (Castorium).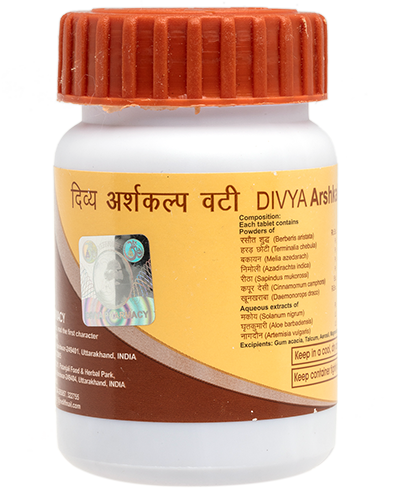 ARSHKALP VATI
Arshkalp Vati is a time-tested medicine for piles, haemorrhoids and fistula. It is made from a combination of herbal extracts that have the capacity to heal inflammations and soothe pain and discomfort. Arshkalp Vati also has laxative properties that induce peristaltic movements thus making evacuating of bowels pain-free
Benefits:
Useful in haemorrhoids, fistula, etc. This prevents pricking, burning and pain caused by piles.
Ingredients:
Rasottsudh (berberisaristata),Harar small (terminaliachebula),Bakayan (melia azedarach),Nimoli (azadirachtaindica),Reetha (sapindusmukorossi),Kapoor desi (cinnamomumcamphora),Khunkharaba (daemonoropsdraco),Makoy (solanum nigrum),Ghritkumari (aloe barbadensis),Nagddon (artemisia vulgaris).
GILOY GHAN VATI
Giloy Ghan Vati is used as a treatment for general fever and immunity.Useful in generalized debility, fever, skin & urinary disorders. Beneficial in general weakness, fever, Dengue, Chicken Guinea, skin and urinary disorders.
Benefits:
Useful in generalized debility, fever, skin and urinary disorders.
Ingredients:
Giloy(Tinospora cordifolia).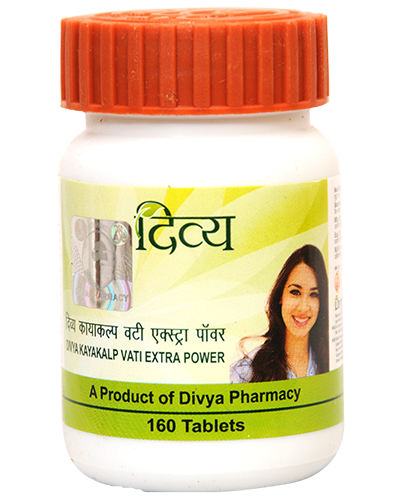 DIVYA KAYAKALP VATI EXTRA POWER
Divya Kayakalp Vati Extra Power detoxifies your blood and cures skin ailments. Contaminated and unbalanced diet or harsh environment makes our skin dull and damaged thus leading to skin ailments like pimples, acne. The herbal extracts in Divya Kayakalp Vati Extra Power help re-establish the balance of elements in your body and gives you glowing skin.
Benefits:
Useful in skin diseases and removes unwanted pigmentation,Controls eczema, scabies, leukoderma, etc.
Ingredients:
Panvad (Cassia tora),Daru haldi (Berberisaristata),Karanj (Caesalpiniabonducella),Haldi (Curcuma longa),Neem (Azadirachtaindica),Manjishta (Rubbia cordifolia),Kalijiri (Centratherumanthelmint icum),Chandan swet (Santalum album),Amla (Emblica officinalis),Giloy (Tinosporacordifolia),Kutki (Picrorhizakurroa).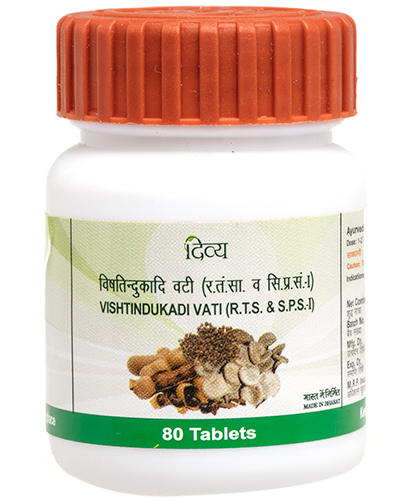 VISHTINDUKADI VATI
Divya VISHTINDUKADI VATI is a wonderful herbal remedy for normal functioning of the nervous system. It is a wonderful natural remedy for abdominal pain. This is a natural remedy and produces no side effects. It helps in boosting up the nervous system and gives quick relief from acute nerve pain.
Benefits:
Useful in jirnavatrog and apheem vyasan, (dysfuction of motor nerves, girna vaat rog, paralysis, parkinson's disease, scatica, opium eddiction etc).
Ingredients:
Sudha Kuchla,Supari,Kali Marich,Imli Beej.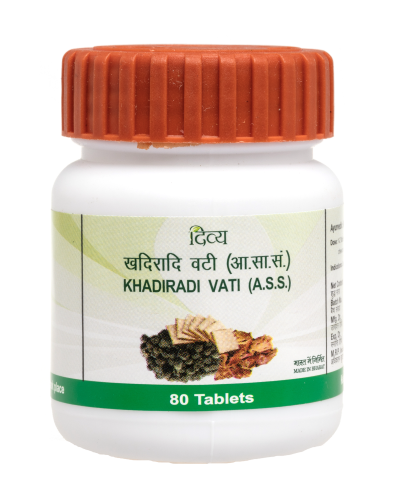 KHADIRADI VATI
Khadiradi Vati is a very effective Ayurvedic medicine that prevents bad breath, toothache, gum problems and oral ulcers. Bacterial build-up in the mouth leads to bad breath, dental decay and mild discomfort to acute pain in teeth and gums. Khadiradi Vati has antibacterial properties that eliminates the bacteria and gives you relief.
Benefits:
Useful in oral and dental problems (mukhrog, dant rog),Reduces bad breath and dental decay.
Ingredients:
Khairsar,Javitri,Kankol (Shital),Supari,Kapoor.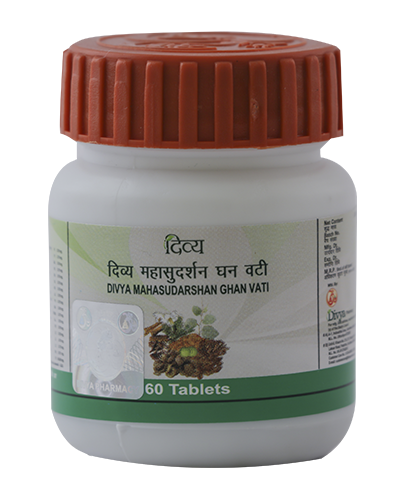 DIVYA MAHASUDARSHAN GHAN VATI
DivyaMahasudarshanGhanVati is a potent Ayurvedic formulation that helps you fight contagious viral infections like swine flu, viral fever, etc. DivyaMahasudarshanGhanVati kills the virus in your system, boosts immunity and soothes cough and aches caused by the infections.
Benefits:
Cures viral infections,Relieves cough and cold
Ingredients:
Harad (Terminalia chebula),Baheda (Terminalia belerica),Amla (Emblica officinalis),Haldi(Curcuma longa),Daru haldi (Berberisaristata),Kateri Chhoti (Solanum xanthocarpum),Kateri badi (Solanum indicum),Kachoor (Curcuma zedoaria),Sonth (Zingiberofficinale),Kali marich (Piper nigrum),Pipal (Piper longum),Piplamool (Piper longum),Murva (Marsdeniatenacissima),Giloy (Tinosporacordifolia).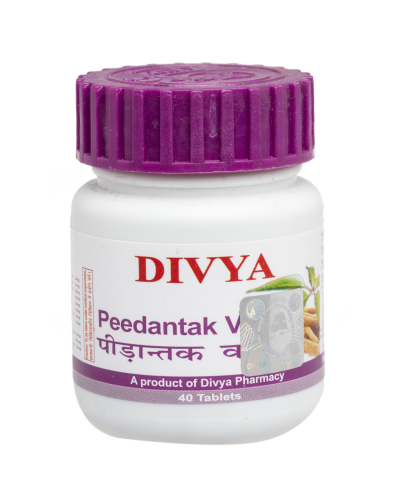 PEEDANTAK VATI
Divya Peedantak vati is an ayurvedic proprietary medicine used in the treatment of joint disorders. It helps to reduce the joint pains caused due to the conditions such as arthritis, cervical spondylosis, osteoarthritis, and sciatica. It can also be used to treat muscle pains.
Benefits:
Useful in joints pain & muscular pain.
Ingredients:
Guggul shuddha(balsamodendron mukul),Surenjan meethi(colchicum luteum),Ashwagandha(withania somnifera),Shilajeet shuddha(asphaltum),kuchla shuddha(strychnos nux-vomica),Nagarmotha(cyperus scariosus),Rasna(pluchea lanceolata),Nirgundi(vitex negundo),punarnava mool(boerhaavia diffusa)methi(trigonella foenumgraecum),nisoth(operculina turpethum),stavar(asparagus racemosus).