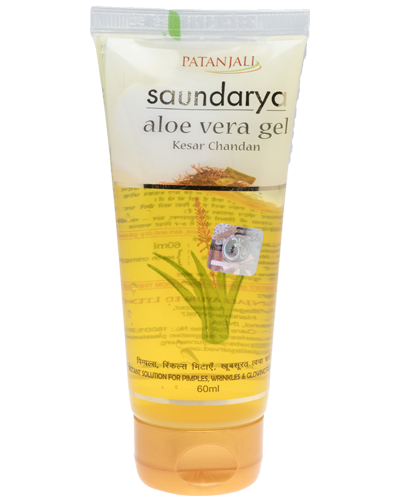 SAUNDARYA ALOE VERA GEL KESAR CHANDAN
The beautifying and cooling essence of Kesar (saffron) and Chandan (sandalwood) combine with the soothing qualities of Aloe Vera in Saundarya Aloe Vera Gel Kesar Chandan to nourish and hydrate your skin and give it a natural glow. The antioxidant properties of this unique blend soothes the rough and dry patches of the skin to brighten the dull parts.
Benefits:
Lightens dark spots and pigmentation,Makes skin glow,Controls sunburn,Reduces tanning.
Ingredients:
Ghrit kumara (aloe barbadensis),Kesar (crocus sativus),White chandan (santalum album),Vitamin E,Permitted colour ,Sugandhit dravya- Q.S.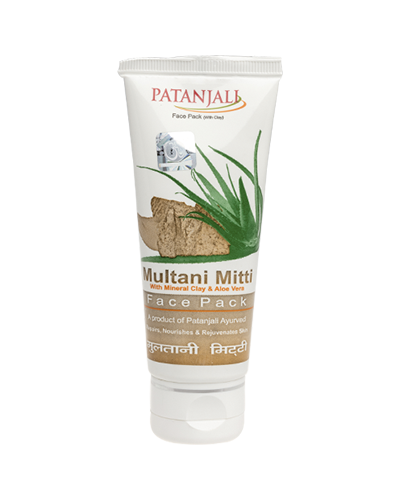 FACE PACK MULTANI MITTI
Get youthful glowing skin with PatanjaliMultaniMitti Face Pack. Also known as Fuller's earth, Multanimitti has trace minerals like zinc oxide, aluminium and magnesium that repair and rejuvenate the skin. Gairika (mineral clay) tightens the skin and enhances blood circulation. Addition of aloe vera softens and heals minor abrasions and moisturizes the skin with natural elements.
Benefits:
Useful in reducing effects of skin disease, dryness and roughness,Soothes small abrasions,Adds glow to face.
Ingredients:
Multanimitti – Fuller's earth - 150mg,Mratika-mixed clay - 50mg,Ghritkumari - aloe vera 400mg,Aqua,Pack base,Methyl paraben,Sugandhritdravya – Q.S.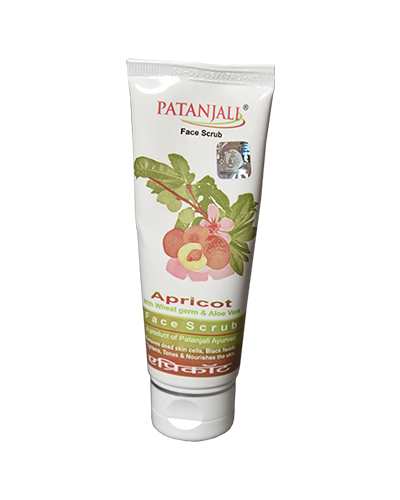 APRICOT FACE SCRUB
Reveal healthy, smooth, radiant skin with Patanjali Apricot Scrub. The herbal scrub thoroughly and effectively exfoliates your face gently and washes away dead cells, uneven skin, blackheads and blemishes and improves blood circulation to give you a natural glow. Apricots are known to possess high levels of carotenoids (Vitamin A), which hydrate and nourish the skin with essential ingredients.
Benefits:
Removes dead cells and blackheads,Reduces blemishes,Reveals radiant skin.
Ingredients:
Khoobani – prunusarmeniaca – 50 mg,Triticumsativum - 20mg,Ghritkumari - aloe vera 480 mg,Aqua,Pack base,Methyl paraben,Propyl paraben,Sugandhritdravya - Q.S..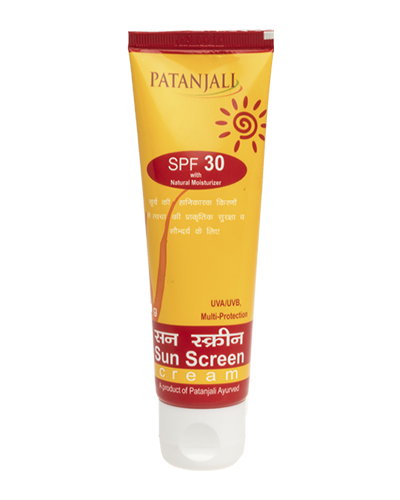 SUN SCREEN CREAM
Sun Screen Cream, a product of Patanjali Ayurved Limited, is rich in the extracts of natural oils and herbs that protect the skin from harmful sun rays, and nourish and revitalize the complexion to make skin fresh, smooth and attractive. An Ayurvedic proprietary medicine, the cream contains aloe vera extracts, wheat oil, coconut oil.
Benefits:
Protects from sun,Damage Rejuvenates,skin Increases glow.
Ingredients:
Ghrit kumari (aloe barbadensis),Wheat oil (triticum sativum) ,Coconut oil (cocos nucifera),Cucumber (cucumis sativus),Methi (trigonella foenum),Majisth (rubia cordifolia),Amba haldi (curcuma amada),Haldi (curcuma longa) ,Aqua ,Cream base ,Diazolidinyl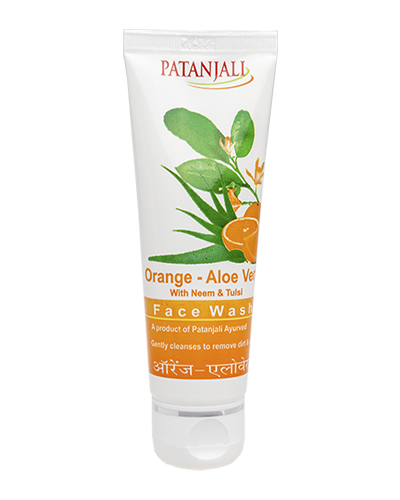 ORANGE ALOEVERA FACE WASH
Patanjali's Orange Aloe vera Face Wash is a unique combination of nourishing aloe vera and the natural astringent orange peel. The face wash gently cleanses the grime, oil, dead cells and toxin build up that collect over the skin. Neem and tulsi add a disinfectant and healing touch to the face wash while gently cleansing your face.
Benefits:
Gentle cleanser Rejuvenates dehydrated skin Disinfects while cleansing .
Ingredients:
Ghrit kumari (Aloe vera),Orange peel (citrus sinensis),Neem (azadirachta indica),Tulsi (ocimum sanctum),Aqua,Soft soap base,Vitamin E,Diazolidinyl,Urea & IPBC,Sugandhit dravya – Q.S.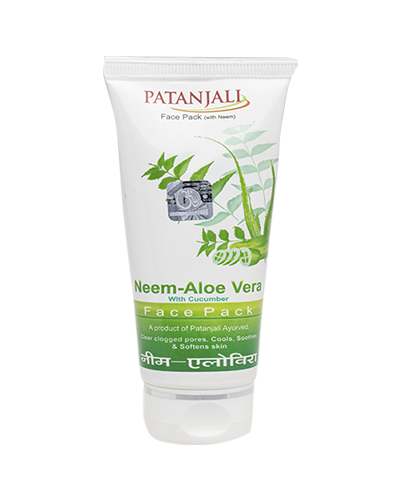 NEEM ALOEVERA WITH CUCUMBER
Deep cleanse your face and unclog pores with Patanjali Neem Aloevera with Cucumber Face Pack. Formulated with neem and tulsi, the pack's organic ingredients are ideal for oily and combination skin problems such as acne, pimples and blackheads. Full of anti-bacterial properties, neem regulates excess oil secretion, clears closed pores, reduces skin impurities and enhances the face's natural glow.
Benefits:
Prevents pimples,Improves glow.
Ingredients:
GHRIT KUMARI - ALOE BARBADENSIS - 400 MG,MULTANI MITTI - FULLAR EARTH - 140MG,NEEM - AZADIRACHTA INDICA - 50MG,KHEERA- CUCUMIS SATIVUS - 20MG.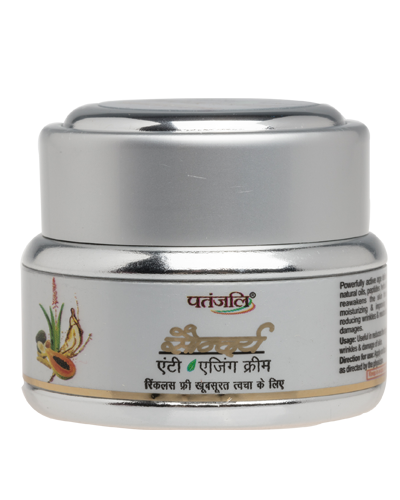 SAUNDARYA ANTI AGING CREAM
The powerful active age-defying formulation of Saundarya Anti Aging Cream keeps wrinkles at bay and adds a natural glow to your skin, making it brighter and more youthful. Rich with natural oils, peptides, herbs and fruit extracts, the cream works gently on the skin and reawakens its luxuriously moist feel. Enjoy touching your firmer skin.
Benefits:
Improves complexion,Smoothens wrinkles,Moisturizes and hydrates ageing and sun-damaged ski,Neutralizes environmental damage,Reduces fine lines
Ingredients:
Ghrit kumara (aloe barbadensis),Wheat oil (triticum sativum),Jojoba oil (simmondsia chinensis),Avokado oil (persea americana),Chironji oil (buchnania latiofolia) ,Papaya (carica papaya),Banana (musa sapientum),Masoor dal (ervum lens) ,Turmeric (curcuma longa),Revand sugar (rheum emodi).
ROSE FACE WASH
Made from the natural extracts of Rose, neem and aloe vera, Rose Face Wash gently cleanses, nourishes and revitalizes dull skin tissue to give it a fresh, smooth and soft look. It is also useful in healing dryness and roughness of the skin and in reducing pimples. With Rose Face Wash.
Benefits:
Reduces pimples,Makes complexion smoother and fresh,Reduces dryness and roughness.
Ingredients:
Ghrit kumari (Aloe barbadensis) ,Rose (rosa centifolia),Neem (azadirachta indica) ,Aqua,Gel base,Honey ,Vitamin E ,Dimethicone,Colour (cl : 15450) ,Diazolidinyl urea & IPBC ,Sugandhit dravya – Q.S.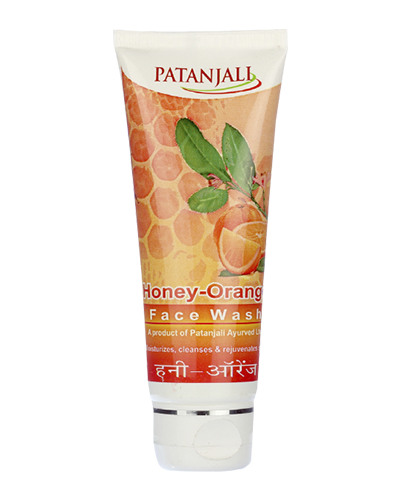 HONEY ORANGE FACE WASH
Patanjali Honey Orange Face Wash is a unique blend of natural herbs mixed with the goodness of honey. A 100% soap-free deep-cleansing gel, it is specially formulated for oily, sensitive and acne-prone skin. Neem, tulsi, and turmeric (haldi) are natural antiseptics that remove impurities, act as disinfectant.
Benefits:
Natural cleanser ,Soap-free wash,Deep cleanses ,Controls excess oil production,Prevents acne from forming,Moisturizes and rejuvenates skin tissue
Ingredients:
Ghrit kumari (aloe barbadensis) ,Honey (mel) ,Orange peel (citrus sinenis) ,Tulsi (ocimum basilicum),Haldi (curcuma longa) ,Neem (azadirachta indica) ,Mulethi (glycrrhiza glabra) ,Aqua ,Gel base ,Colour (cl: 15510) ,Methylisothiazoline and potassium sorbate,Sugandhit dravya - Q.S. .