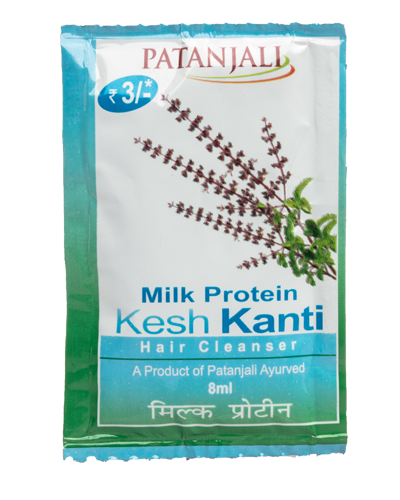 KESH KANTI MILK PROTEIN HAIR CLEANSER
Luxuriant, glossy hair is now yours with Patanjali Kesh Kanti Milk Protein. Smoothen frizzy tresses and restore life to dull and dry hair with the nourishing extracts of bhringraj, ghritakumari, mehendi and hydrolyzed milk protein. Bhringraj and myrtle (mehendi) have been used in Ayurveda for centuries for their ability to fortify hair.
Benefits:
Nourishes and revitalizes hair Useful in reducing dryness and roughness of hair Prevents hair fall Moisturizes and softens strands Improves hair shine.
Ingredients:
Each 10 ml contains: Bhringraj ( eclipta alba) .50mg Mehendi ( lawsoniainnermis) .50mg Neem ( azadirachtaindica) .50mg Tulsi ( ocimum sanctum) .50mg Ghritakumari (aloe vera) .50mg Aqua Surfactant base Vitamin E Hydrolyzed milk protein Diazolidinyl urea IPBC Sugandhitdravya – Q.S.
COCONUT HAIR OIL
Patanjali Coconut oil is high in natural saturated fats. Saturated fats in coconut oils not only increase the healthy cholesterol in the body but also helps to convert the bad cholesterol into good cholesterol. It helps promote heart health and lower the risk of heart disease.
Benefits:
Promotes heart health, increases good cholesterol.
Ingredients:
Coconut oil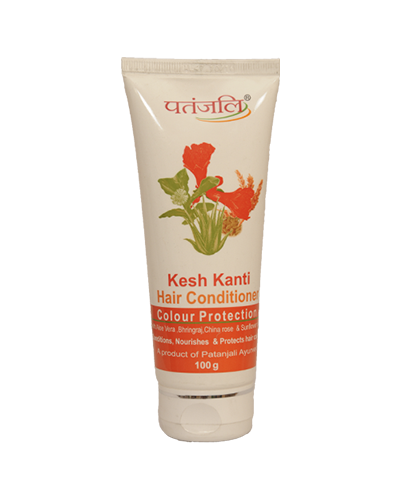 HAIR CONDITIONER COLOUR PROTECTION
A conditioner just right for coloured hair, Patanjali Hair Conditioner Color Protection keeps hair soft and silky while maintaining its colour. An Ayurvedic proprietary medicine, the conditioner draws on the goodness of hibiscus and wheat germ oil to nourish the hair from the roots, protecting it from dryness and environmental damage. Protects your hair's colour while making it naturally more vibrant
Benefits:
Decreases hair dryness and roughness,Conditions dry and damaged hair,Regenerates hair growth,Makes hair healthy and strong.
Ingredients:
Ghrit kumari (aloe barbadensis) ,Wheat germ oil (triticum sativum) ,Sunflower oil (helianthus annuus) ,Bhringraj (eclipta alba),Gudhal (hibiscus rosa sinensis) ,Aqua ,Shea butter ,Glycerin ,Vitamin E ,Sillicon quanternium ,Diazolidinyl Urea & IPBC,Permitted colour ,Sugandhit dravya - Q.S. "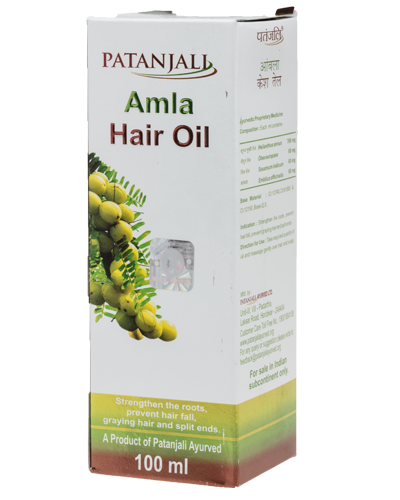 KESH KANTI AMLA HAIR OIL
Patanjali Kesh KantiAmla Hair Oil brings life and vitality to hair turned dull and dry by chemical cleansers. The Ayurvedic formulation strengthens roots, revitalizes lifeless hair and prevents hair fall, greying and split ends. The blend mixes the strengthening and softening properties of jaitoon (olives) and sunflower oil with amla, a rich source of vitamin C.
Benefits:
Strengthens the roots,Reduces hair fall,Diminishes greying and split ends.
Ingredients:
Sunflower oil,Jaitoon (olive) oil,Til (sesame) oil,Amla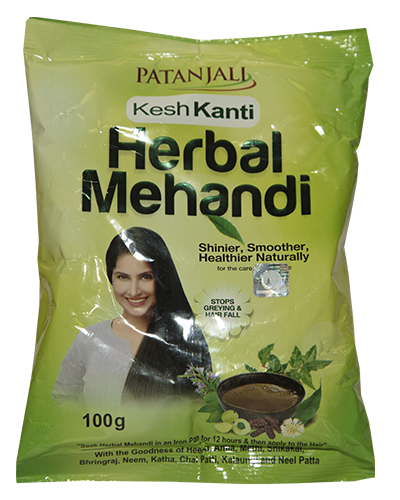 HERBAL MEHANDI
Naturally condition and colour your hair to reveal its innate beauty with Patanjali Herbal Mehandi. This henna pack is enhanced with 11 herbs and enriches the hair, reduces dandruff and strengthens roots. With regular use, the pre-wash conditioner improves hair growth, softens and straightens hair and reduces hair fall. An Ayurvedic product.
Benefits:
Natural conditioner,Colours naturally,Reduces hair fall,Prevents premature greying,Imparts silky feel
Ingredients:
Heena,Amlamethi,Shikakai,Bhringraj,Neem,Kaha,Chai patti,Kalaungi,Neel patta.
ALMOND OIL
Patanjali Almond Oil strengthens, softens, conditions the hair and reduces loss. Almond oil has been valued for centuries for its nourishing properties and healthy hair-growing ingredients such as vitamin E, Omega-3 fatty acids and magnesium that absorb easily into hair and soothe the scalp. The oil forms a protective layer around hair and leaves it silkier and shinier after wash.
Benefits:
Strengthens and conditions hair Makes hair shiny and silky Reduces hair fall Nourishes with minerals and vitamins.
Ingredients:
Til oil (sesamum indicum) ,Almond oil (prunus amygdalus),Baheda (terminalia belerica) ,Amla (emblica officinalis) ,Harar (terminalia chebula).
KESH KANTI NATURAL HAIR CLEANSER
Patanjali Kesh Kanti Hair Cleanser safely washes away dirt, grime and dust from hair with its herbal composition that also leaves your tresses silky and shining. The natural medicinal ingredients of the cleanser treat hair and scalp of dryness and dandruff. Bhringraj, myrtle (mehendi), acadiaconcinna (shikakai) and emblicmyrobalan (amla) strengthen the hair.
Benefits:
Leaves hair softer, thicker and shinier,Leaves scalp gently moisturized,Improves dryness and roughness,Treats hair and scalp of dryness and dandruff .
Ingredients:
Each 10 ml contains extracts of: Bhringaraj (eclipta alba) 5.0mg, Mehendi (lawsoniainnermis) 5.0mg, Neem (azadirachtaindica) 5.0mg, Tulsi (ocimum sanctum) 5.0mg, Ghritakumari (aloe vera) 5.0mg, Reetha (sapindustrifoliatus) 5.0mg, Amla (emblicaoffcinalis) 5.0mg, Shikakai (acacia concinna) 5.0mg, Bakuchi (psoraleacorylifolia) 5.0mg, Haldi (curcuma longa) 5.0mg, Giloy (tinosporacordifolia) 5.0mg Aambihalad (curcuma amada) 5.0mg,Aqua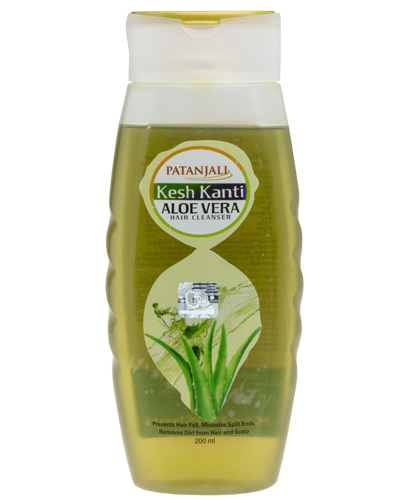 KESH KANTI ALOE VERA HAIR CLEANSER
Patanjali Kesh Kanti Aloe Vera Hair Cleanser is packed with the cleansing and restoring properties of Aloe vera, combined with a variety of nourishing herbs. The extracts of the Aloe plant calm affected scalps and moisturize dry and damaged hair. Tulsi, turmeric, reetha, and amla are natural disinfectants, cleansers and moisturizers that regenerate dehydrated hair and bring limp hair to life.
Benefits:
Reduces dryness,Reduces hair fall,Improves hair glow .
Ingredients:
Ghrit kumari (Aloe vera),Gudhul pusp (hibiscus rosa sinensis),Tulsi (ocimum sanctum),Brahmni (baccopa monnieri),Reetha (sapindus trifoliatus),Amla (emblica offcinalis),Bhrangraj (eclipta alba),Heena (lawsonia innermis),Shikakai (acacia concina).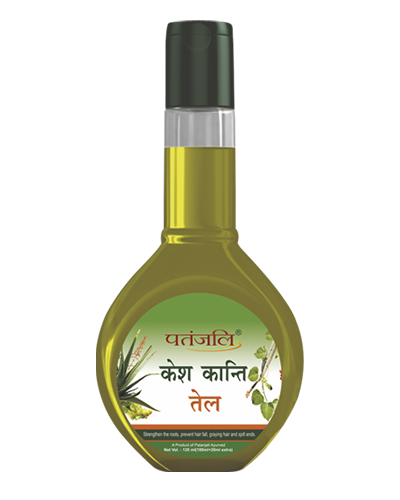 KESH KANTI HAIR OIL
Patanjali Kesh Kanti Hair Oil provides deep nourishment and strengthens hair roots, reduces hair fall and dandruff, and prevents split ends and hair from greying. The regenerating mix of Wheat Germ Oil, bhringraj, sunflower oil and aloe vera calm the scalp, reduces toxin build up and help hair become soft, smooth and tangle free. The soft essences of the herbs used to aid in reducing sleeplessness and headaches.
Benefits:
Decreases hair dryness and roughness,Strengthens hair roots,Reduces hair fall, dandruff,Prevents split ends and greying,Regenerates hair growt,Makes hair healthy and strong
Ingredients:
Ghrit kumari,Wheat germ oil,Sunflower oil,Bhringraj,Gudhu,Brahm,Aml,Mehend,Neem lea,Bahed,Harar(big,Gilo,Jatamansi,Haldi, Nagkesa,Bakuchi.