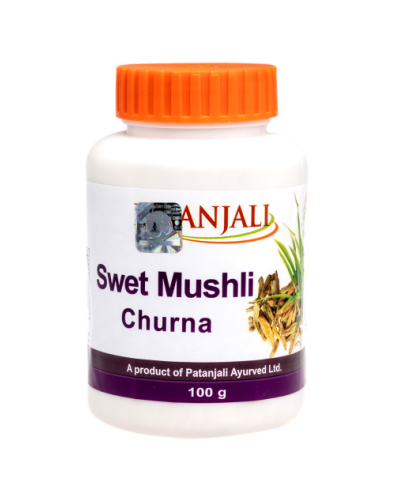 SWET MUSHLI
Patanjali Swet Musli Churna is known as the herbal Viagra. It rejuvenates the reproductive system, Boosts the strength and stamina. Useful in general debilit weakness and loss immunity.
Benefits:
It is useful in general debility, weakness & loss of immunity.
Ingredients:
swet mushli (asparagus adscendens).
ASHVASHILA (CAPSULE)
This medicine suppresses biles and is laxative and purgative medicine. The medicine cleans stomach and treats constipation. Its use does not produce any problem or irritation in the intestines. It inflames stomach fire and hence increases digestion capacity. The nature of women, children and old persons is very delicate and hence, strong powders, sold in the market could cause harm to them, but this `churna` is totally harmless and most effective to them. Different herbs and other materials of ayurveda importance are refined to form powder. Base, salt and acid mixed powder is warm in nature, digestible, tasteful and ignites hunger. Sugar or candy mixed powders are rich in purgation quality, cool and bile suppressive while powders formed of bitter items treat fever and phlegem. The medicines prepared of herbs, which are finely grinned after being dried are called `churna` in Ayurveda.
Dosage:
Half or one spoon, near 2-5 grams, empty stomach or after meals, according to the disease, take in morning and evening with tepid water.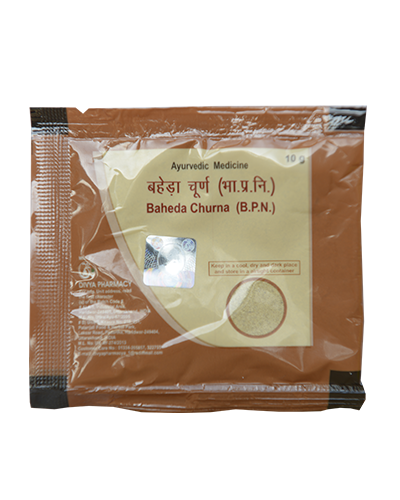 BAHEDA CHURNA
Baheda Churna is made from the extracts of baheda which has multifarious benefits. It cures cough, congestion, laryngitis. It also cures stomach ailments and improves vision. Baheda is a natural source of vitamins which cures your cold infections and strengthens vision. It also purges your stomach thus controlling indigestion and constipation.
Benefits:
Useful in cough, throat diseases, laryngitis, etc.
Ingredients:
Baheda.
SITOPALADI CHURNA
Divya Sitopaladi Churna is an ayurvedic product of Swami Ramdev's Patanjali Ayurved and Divya Pharmacy. Sitopaladi Churna is one of the very easy-to-make Ayurvedic herbal powder mix. It is one of the best and widely used Ayurvedic medicines for cough, even for kids.
Benefits:
Useful in cough, throat diseases, laryngitis, etc.
Ingredients:
SITOPALADI.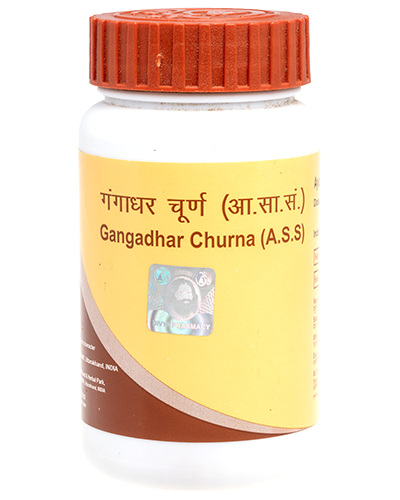 GANGADHAR CHURNA
Gangadhar Churna cures upset stomach, dysentery and diarrhoea. It has antibacterial and detoxification properties therefore it flushes out the micro-organisms and toxins accumulated from the environment and unhealthy diet in your system.
Benefits:
Useful in diarrhoea and dysentery.
Ingredients:
Nagarmotha,IndraJav,BelGiri,MochRas,DhaiPhool,Shinghadagri,AnarChilka,AtisMeetha,Safed Raal,Kali Mirch,Sounth,Daru Haldi,Chirayta,Neem Chaal,Jamun Chaal,Rasot,Patha,Manjishtha,SugandhBala,Bhringraj,Suddh Bhang,KudaChaal.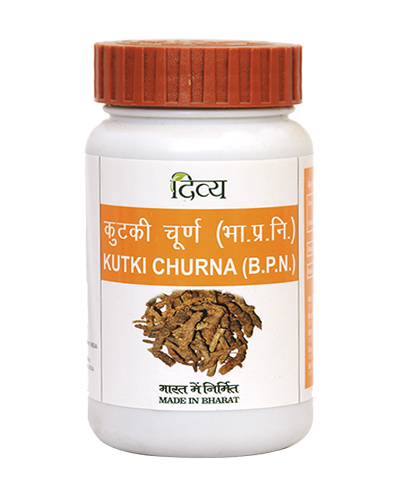 KUTKI CHURNA
Kutki Churna is an ayurvedic medicine which fortifies your liver from Hepatitis C virus, protects your heart and boosts immunity. It has multiple benefits. It also improves digestion and therefore helps in controlling weight and helps you recover from jaundice.
Benefits:
Heals liver and heart problems,Improves digestion.
Ingredients:
Kutki.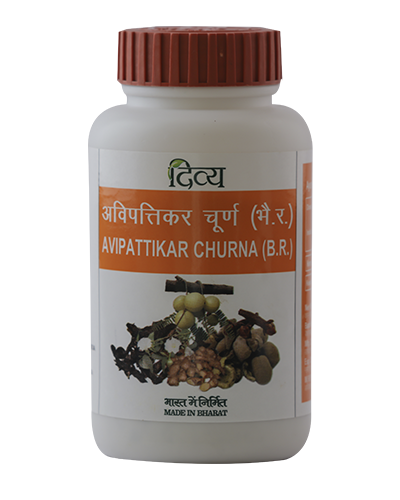 AVIPATTIKAR CHURNA
Avipattikar Churna is a very effective cure for acidity, indigestion and constipation. Unhealthy, unbalanced diet and sedentary lifestyle often leads to digestion-related problems. Avipattikar Churna is a combination of herbs and natural extracts which reduces acidity in stomach, relieves heartburn and discomfort.It reduces gas formation and induces intestinal movements thus relieving you of constipation
Benefits:
Useful in hyperaidity, indigestion, constipation, loss of appetite, etc.
Ingredients:
Sounth,Kali Mirch,Pippal,Harad,Baheda,Amla,Nagarmotha,Vid Namak,VaiVidang,Laghu Ela,Tej Patra,Lavang,Nisoth,Mishri.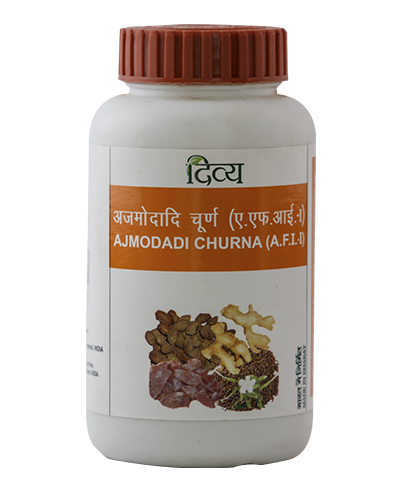 AJMODADI CHURNA
Ajmodadi Churna is an effective cure for joint inflammation, joint pain and arthritis. It heals the joint by reducing swelling and restores the bone and surrounding muscle tissues back to health. Ajmodadi Churna is especially effective in knee pain. It is an ancient formulation made from natural extracts and has no side effects.
Benefits:
Useful in joint pain,Controls rheumatoid arthritis and lumbago.
Ingredients:
Ajmod,VaiVidang,Devdaru,ChitrakMool,SaindhaNamak,ChhotiHarad,Vidhara,Pipalmool,Sounth,Kali Mirch,Pippli,Soya.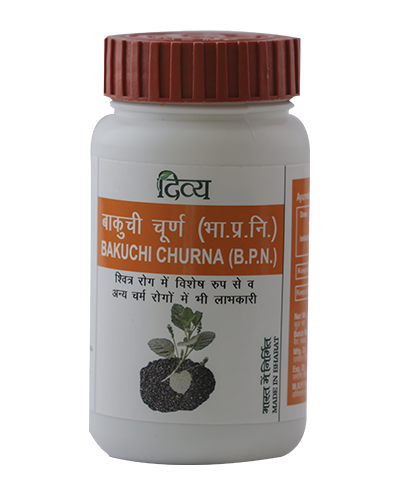 BAKUCHI CHURNA
Bakuchi Churna cures skin disorders, it controls leucoderma or vitiligo. Bakuchi Churna brings to you the goodness of bakuchi seeds extracted with extreme care. Bakuchi is a very potent seed which acts as blood purifier and controls and cures damages to the skin. Bakuchi Churna is made from natural extracts and has no side effects
Benefits:
Useful in vitiligo (leucoderma) and other skin diseases.
Ingredients:
Bakuchi (seeds).